More Photos from Early Annapurna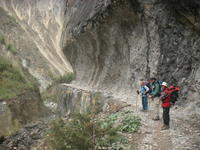 Note: This is the second episode of the Annapurna travelogue, which is in 4 parts.
My friends in Nepal made it all worthwhile - you are SO far out that anything that seems familiar is sacred. I can't imagine doing that first trip alone (I later wandered in the Everest region for weeks alone, but that's another story...). Losing Matt too early due to altitude sickness, failing knees, and the trots was very unfortunate - we missed him but he was later found happy on the beaches of koh Samui (Thailand), healed.
Photos: My compadres (Matt on the left, Rich on the right) on a random trail through a village, then Raj in there as well, where the trail was carved out of the shear rock wall (in the old days there may have been wooden planks hanging from ropes where they hadn't carved it out yet).

Of course I put only a tiny fraction of photos in my travelogues, and I try to pick the very best. Here are some of the less dramatic photos and bits and pieces of explanations: the a kitchen in the middle of nowhere (ah, I loved those sooty spaces and was always in them when they allowed), and another perfect child with a hole through her nose. I wanted photos of the people who lived there showing that time had not changed them that much - I saw little evidence that it had.

I don't always cover the spiritual parts enough (to keep the length of the travelogues managable, so that they can be emailed), but Nepal was the place to see serious faith in action! How can anyone consider their religion "right" when here exists such a content and devout people? We prowled into Upper Pisang (Raj and I at the closed gompa), and explored the roofs of the monastary at Braga (Rich and Raj).


I was fascinated by the beasts of Nepal - the dreadlocked dogs, the beautiful horns and coats of the cashmere sheep, the yaks and the dzos (half cow half yak, for lower altitude work), mules and donkeys, the very occasional cat (always tiger striped), the blue sheep, occasional partridges, etc., but the conflagarations at the Swiss steel suspension bridges always awed me most - I called it an "Annapurna traffic jam" when so many sheep and goats needed to cross a precarious wire bridge at the same time (often with machine gun armed soldiers at either end, to keep out the Maoists) that a mass panic resulted. More than once I pulled a stuck sheep hoof out of a bridge grate to keep the herd moving.
Rounding out the photos... the Gangapurna glacier across from the town of Manang, a dzo with traditional colorful wool earrings (I don't advise that you rey to get quite that close), and my favorite bunch of weatherbeaten ratlets. When not ill, eating, or sleeping, I could usually be found chasing kids and animals.